Jennifer Keller, PharmD, BCPS, BCGP
Jennifer graduated from Wingate University School of Pharmacy with her doctorate in pharmacy in 2008. Her areas of expertise include geriatrics, geriatric psychiatry, diabetes management, medication therapy management and hypertension management. Jennifer is a board certified pharmacotherapy specialist (BCPS) as well as a board certified geriatric pharmacist (BCGP).  She lives with her husband, Steve and their misfit herd of horses in the outskirts of Charlotte.
When she's not working, Jen enjoys perfecting recipes and taking care of the farm.
---
Ana Araguz, CPhT
Ana has been at Pike's for 11 years now having started off as a cashier and morphing into a super Certified Pharmacy Technician. Having dedicated the last couple of years to working with our robotic equipment full time to produce compliance packaging for patients, she is now a more familiar face for customers on the counter.  She has been pursuing her bachelors at UNCC in Criminal Justice but has decided to put that on pause for now to give her complete attention to where it is needed now, at home and at Pike's. The pharmacy has always been her home away from home and while she intends to pursue that degree, Pike's is where she wants to be. "Kindness matters. To be able to be part of someplace that sees the real person behind every prescription is something I will always cherish. We have laughed and we have cried with our customers and those relationships are one of the big reasons why I want to be here as long as Pike's is standing."
When she is not at work assembling window displays and what not, Ana is at home with her 10-year-old daughter Liliana and husband Angel. Her sister Jenny is there, too. Making memories with her family is what she lives for. A good Netflix series never hurts either!
---
Jenny Araguz, CPhT
Jenny is a Charlotte native who started working at the pharmacy as a cashier when she was 16 years old. Now, a nationally certified pharmacy technician, she works side by side with her sister, Ana. This being Jenny's first and only job, she's thankful for the opportunities and lessons learned at Pike's — teamwork, responsibilities, integrity, and overall, what it means to care for the community. "This pharmacy has become my second home. Everyone here has become my family and has helped shape me into a kind-hearted human being."
When Jenny is not working at the pharmacy, she loves reading a good mystery-thriller book in a cozy coffee shop or spending time with her family and loved ones.
---
Jesse Pike, Jr., BPharm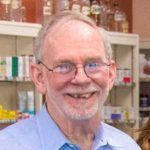 Jesse earned his BS in Pharmacy from Chapel Hill in 1971. He served as pharmacist consultant and national marketing director for National Data Corporation prior to returning to the family business and opening Pike's Pharmacy on Shamrock Drive in Charlotte in 1982. His areas of expertise include immunizations, medication therapy management and Medicare Part D.  These days, Jesse is enjoying his well-deserved retirement but still finds his way into the pharmacy regularly. There's no more hiding from the honey-do list these days!
---